When it comes to investigations, citizens often have valuable information and can be critical partners for law enforcement — if you have the right tools to connect. But collecting evidence from the community poses several challenges to law enforcement in regards to efficiency, security and transparency. 
It's no surprise that most agencies focus on body-worn and in-car video systems when it comes to choosing digital evidence management software. After all, video policing programs generate massive quantities of data for agencies to manage. However, without a robust and thoughtful digital evidence management program that goes beyond what is captured by officers, agencies are missing out on information from other valuable sources.
Motorola Solutions has intentionally bundled CommandCentral Community with CommandCentral Evidence Plus. When combined, these applications offer your agency the ability to build transparency and partnership with your community, as well as bring public submissions directly into the incident record for a more complete view of the case.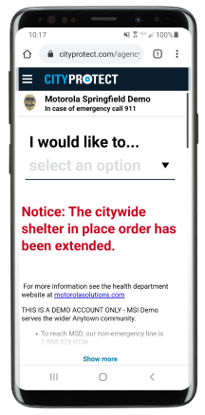 Where do I start? How can my agency encourage citizens to submit evidence?
In this digital age, you know someone out there has seen something that can help an investigation. But it can feel like looking for a needle in a haystack as you build the case. The first step is to give the public a single, mobile touchpoint to share what they know. Research shows that 68% of the public want to use technology to help public safety, such as sharing images or video with agencies.(1) They just need the tools to make it happen. 
Among the tools included with CommandCentral Community is CityProtect, the heart of community engagement and the public-facing side of CommandCentral Community. CityProtect offers your agency a dedicated public-facing page ‒ your Agency Page ‒ using a unique URL to serve as the hub for your community tools. It's where your engagement and transparency with the community begins and how you keep the community tools you decide to publish organized and available.
How can I manage all of this new data? What about security? 
When bringing together community engagement and digital evidence management, it's important to go beyond capturing the tip. What do you do with all the data once you've collected it from the public? With the influx of digital content, the last thing you need is to overwhelm your records and evidence teams with more to manage. Time spent dealing with external media ‒ USBs, CDs, email attachments ‒ is one of the biggest inefficiencies in an investigation. It takes extra time and effort to figure out how to get externally submitted media onto your agency's network without opening your agency to a cybersecurity risk.
One powerful Community tool you can include on your Agency Page is Anonymous Tipping, which offers citizens an easy, secure way to anonymously share information and have a two-way dialog with your agency. In the case of Anonymous Tipping, the tipster uses a secure online form. No external devices are involved. This is a great way to collect tips and evidence from the public when they have information you don't know about.
What about when you know a citizen has information and you need to collect it? In this case, you can utilize another included tool, Digital Evidence Collection, which provides a case-specific method of transferring digital media from public sources to your agency via an agency-generated link or QR code. This link can be emailed to the citizen, posted on social media, or even scanned in the field. 
Once collected, all of these public submissions need to be triaged and accepted as relevant to a case. This is done in TipManager, the admin interface for CommandCentral Community. Once approved, submissions are automatically tagged with the incident ID, stored in CommandCentral Evidence, and included in the Incident Record. 
We also offer integration with your existing Motorola Solutions Spillman Flex and PremierOne CAD/RMS systems, ensuring public submissions are included in your on-premises Incident Record.
Incorporate Community Engagement when you're evaluating Digital Evidence Management Software 
Together, CommandCentral Community and CommandCentral Evidence keep your case data organized for you. 
CommandCentral Evidence is a source-agnostic digital evidence management application that provides the tools you need to store, manage and share digital evidence. Whether it's fixed surveillance, body-worn camera video, in-car video, crime scene images, 9-1-1 audio or radio traffic, it all needs to be reviewed and potentially shared to aid in prosecution. And Community inputs need to be among that list.  
The Community tools give you a consistent, collaborative presence in the community. Give the public a greater role in community policing, as well as the opportunity to contribute to the safety of their community. 
The good news is that the CommandCentral Community tools are included with CommandCentral Evidence Plus to better assist agencies in bringing citizen-captured media into their digital evidence management program.
Start leveraging one of the most valuable resources you have ‒ your community ‒ today.  
(1) Source: Consensus for Change: Transforming Safety through Technology. (2021). Goldsmiths. University of London for Motorola Solutions.