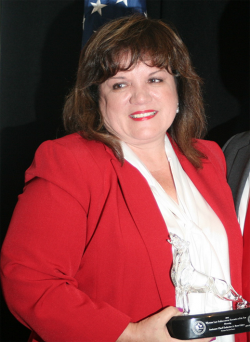 Every year the National Association of Women Law Enforcement Executives (NAWLEE) and Motorola Solutions award the Woman Law Enforcement Executive of the Year (WoLEEY) Award to a NAWLEE member who has made sustained and significant contributions to the field of law enforcement over the course of her career. This year's WoLEEY recipient, Assistant Chief Katherine A. Perez exemplifies the strength, courage and dedication to her profession that inspires female law enforcement executives around the nation.
Assistant Chief Perez has dedicated her life to the service of her country, county and community. Since the age of 14, when she was part of the Police Explorer Program within the Hartford Police Department she has wanted to be a police officer and serve as a positive example in her community.
She began her professional career with the Connecticut Army National Guard in Hartford, Connecticut as a Military Police Officer with the 143rd Military Police Company. This experience provided her with valuable training and resources which she used to fuel her subsequent education and law enforcement career. Upon completion of Basic and Military Police Training, she returned to Hartford and joined the Hartford Police Department as a patrol officer in 1983. In 1991 she was promoted to the rank of Sergeant, where she oversaw daily patrol operations. In 1995, she was promoted again, this time to the rank of Lieutenant where she served as the Commander of the Youth and Family Services Division within the Investigative Services Bureau, where she managed the investigations into crimes committed by and against children. In 2001 she was once again promoted, this time to the rank of Captain. She commanded both the Investigative Services Bureau, as well as the Operations Support Bureau before retiring in April of 2004 after over 20 years of service to the citizens of Hartford.
In 2006, Assistant Chief Perez went back into service and was selected from a nationwide search to start the first City of Bowie Police Department in Bowie, Maryland. Under her leadership the Bowie Police Department grew to 52 sworn members and 6 civilian personnel. In late 2010, Katherine Perez accepted the Assistant Chief position with the Federal Reserve Police in Washington, D.C. where she provides her outstanding leadership and expertise to over 150 sworn and civilian members of the Law Enforcement Unit at the Federal Reserve Board of Governors.
Throughout her remarkable career, Assistant Chief Perez has been driven by the desire to be a positive force in the lives of others. Having grown up in difficult circumstances herself, she dedicated her career to bettering the experience of children going through similar experiences. She strove to be a good role model and is proof that hard work, even in the face of insurmountable odds, really does pay off.
Motorola Solutions is proud to honor Assistant Chief Perez and the countless other female law enforcement executive who dedicate their lives to serving their communities.
Learn more about NAWLEE's annual conference the the WoLEEY award here.