Dangerous chemicals. Heavy machinery. Confined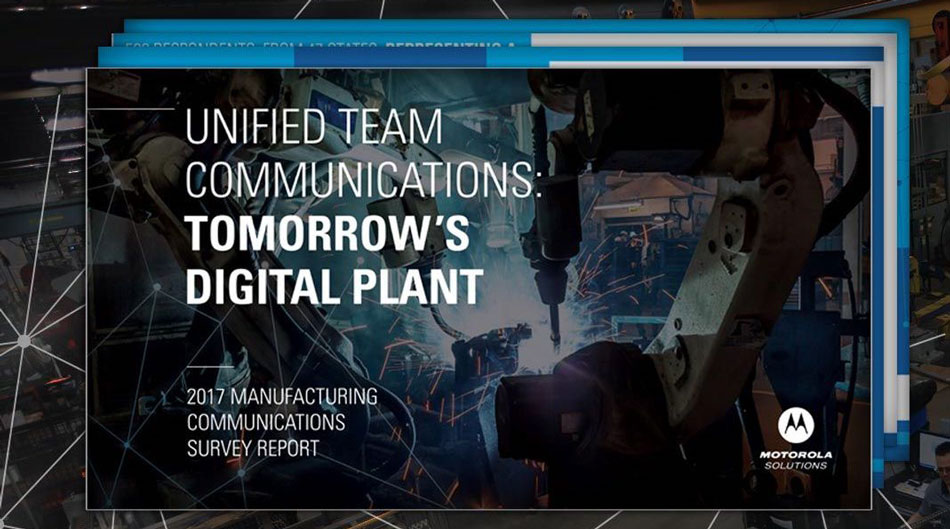 spaces. Manufacturing plants and factory floors are hazardous places, with the potential for serious safety issues. Communications technology used in manufacturing is rapidly evolving to help employees—from plant managers and operations personnel, to warehousing and distribution — instantly connect and quickly respond to whatever situation may occur. Are you keeping up with the latest communication technologies to ensure your team is equipped to respond to emergencies quickly, intelligently and decisively?
In the new Motorola Solutions 2017 Manufacturing Communication Survey — available for immediate download — factory safety is top-of-mind among the 500+ respondents from 47 states. To protect workers from injury and keep manufacturing processes running smoothly, plant workers are embracing digital communications for smarter and safer operations, improved team communications and unified collaboration.
Two-Way Radios Still Manufacturer's Top Choice for Safe and Effective Team Communications
Even in today's age of smartphones, the use of two-way radios is growing.
The survey found that 45% of manufacturers use two-way radios as their primary form of plant communications, up 13% from 2015.
Nearly half of respondents are using digital radios or a mix of digital and analog and of the remaining analog-only respondents, a third plan to switch to digital in the next two years.
For manufacturing, digital communications are a true game-changer. With next-generation technology, background noise is suppressed to deliver crisp, clear audio real-time, every time — ensuring employee safety and productivity is maximized. It's no surprise that 93% of manufacturers surveyed indicated that "hearing clearly anywhere, even in noisy plant conditions" was a top priority for their communication system.
Digital two-way radios offer important safety features including one-to-many calling, flexible emergency alerting capabilities that enable workers to immediately notify emergency response teams, and critical communication prioritization when it's needed. Personnel tracking is enhanced with "man down" and "lone worker" modes. In these modes, a worker's radio can actually call for help when a worker can't and can initiate an emergency alert if they're inactive. Transitioning from analog to digital radio addresses other communications pain points manufacturers cited including coverage, clarity, and battery life, all of which are instrumental in keeping employees connected and safe.
Hear from 500+ Manufacturers in the 2017 Manufacturing Communications Survey Report
Download the complimentary survey report to find out what manufacturers are citing as their top priorities and challenges for 2017 and beyond.