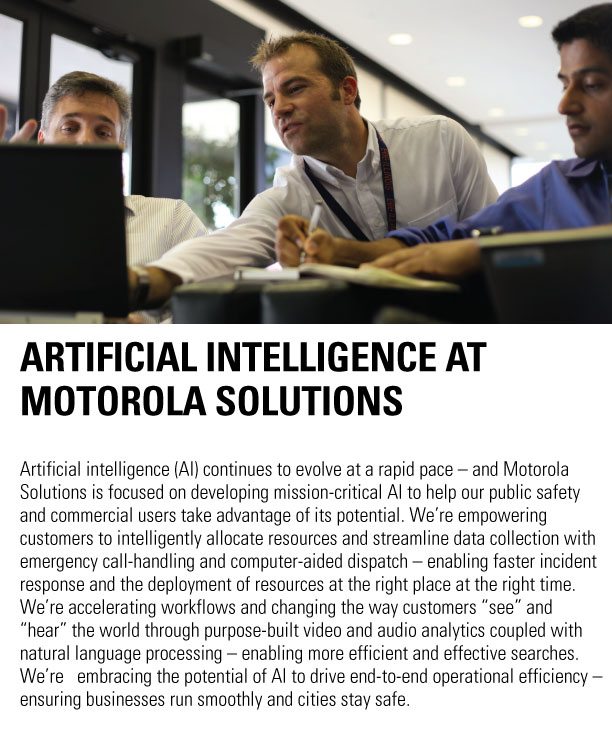 Artificial intelligence (AI) has long captured the public imagination – embodied in cutting-edge robots and the highly automated world portrayed in science fiction movies. Despite its futuristic connotation, AI is already here – and has been for years.
Consumer tools – including virtual assistants like Siri and Alexa, and machine learning-driven algorithms – are widely being utilized to make our daily lives easier.  Yet, 63 percent of the public don't realize they are actually using AI technologies in their day-to-day lives.
Whether we realize it or not – the truth is, many of us are exposed to and utilizing AI every day.
Within the corporate world, AI is ushering in a significant new era of doing business. Entire industries are poised to be transformed, or are already being impacted, by AI applications – from manufacturing and health care to public safety and transportation.
AI is currently being used to combat epidemics, manage and warn of disasters, and fight crime. Its application is bringing about a number of benefits including increased efficiencies, new products and fewer repetitive tasks. Computer-aided medical image interpretation is being used to scan digital images and highlight conspicuous sections that may be a disease. Google's "smart reply" function is helping users manage their inbox, deciphering incoming messages and automatically suggesting different responses. Banking apps are using machine learning to decipher and convert handwriting to text, enabling customers to deposit checks via their mobile phone.
As soon as 2020, the market for AI is expected to reach $70 billion. By 2035, AI technologies are projected to boost corporate profitability by an average of 38 percent. It is clear that AI will have an immense effect on consumer, enterprise and government markets around the world.
While there are some obstacles to overcome, AI has the potential to solve many of today's problems and enable us to work smarter and more efficiently. However, this change is only possible if we embrace AI with the mindful focus on applications dedicated to improving lives, products and experiences for everyone. Looking forward, an open mind will be a critical asset as companies experiment with how to incorporate AI into our personal lives, professional lives, and society at large.