Annually, the National Sheriffs Association (NSA) and Motorola Solutions partner to award the Deputy Sheriff of the Year Award for Merit and Valor. The award recognizes the NSA members who have shown unusual initiative and imagination in the performance of his/her duty and was established to award the deputies for their bravery and performance while serving their communities. The Deputy Sheriff of the Year Award is given in memory and honor of Charles "Bud" Meeks who served as the executive director of NSA from 1989 to 1997, and in 2000. 
On June 17, 2019, at NSA's Annual Conference in Louisville, KY, Motorola Solutions and NSA awarded the Deputy Sheriff of the year for Merit to Senior Deputy First Class Richard Dean of Harford County, MD, and Detective Cheryl Patty of Dane County, WI. Deputy Robert K. Kunze III (Posthumous) of Sedgwick County, KS, was awarded the Deputy Sheriff of the Year for Valor.
Deputy Sheriff of the Year for Merit: Senior Deputy Richard Dean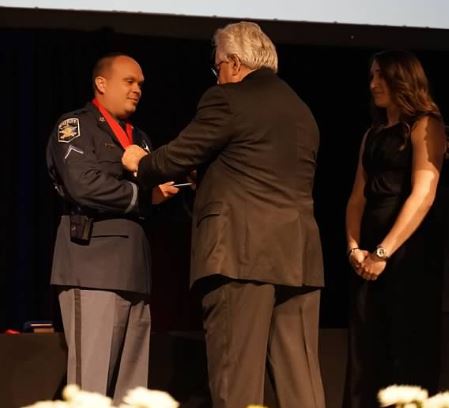 Senior Deputy Richard Dean was presented with the award for his contributions to his profession and community over the years. His drive and teamwork in many of his department's initiatives earned him this prestigious honor and recognition. It is noted that Dean has more than 1,000 calls for service, 41+ arrests, and 117 traffic stops, some of which have led to the seizure of illegal narcotics, weapons and prescription drugs. 
Dean is involved in many aspects of his department, including his role as an instructor of the Sheriff's Office Training Academy and overseeing the Sheriff's Office bike patrol program. 
Outside of the department, Dean supports his community through his involvement in local school PTA events for children. He and his family have personally raised thousands of dollars through volunteer efforts for Casey Cares. 
Motorola Solutions congratulates Senior Deputy Richard Dean for his exemplary contributions to law enforcement and the communities he serves.
Deputy Sheriff of the Year for Valor: Deputy Robert K. Kunze III (Posthumous)
Deputy Robert K. Kunze III was awarded for his service, in which he paid the ultimate sacrifice while protecting his fellow citizens. Kunze was fatally shot on Sept. 16, 2018, when handcuffing a man on suspicion of vehicle theft. Before the perpetrator fled, Kunze neutralized the threat by killing the attacker, thus saving nearby witnesses. 
Deputy Kunze's quick action of apprehending and neutralizing the threat saved many additional lives that were in danger. He put the protection of others before himself and paid the ultimate sacrifice. Deputy Kunze's actions that day are never forgotten and his legacy will forever live on.
Deputy Kunze, 41, is survived by his wife and daughter.
Motorola Solutions sends our gratitude and sympathy, and congratulates the Kunze family accepting this award on behalf of Deputy Robert K. Kunze III. 
Deputy Robert K. Kunze III Photo: SEDGWICK COUNTY SHERIFF'S OFFICE
Recognize a Law Enforcement Officer that Goes Beyond the Call of Duty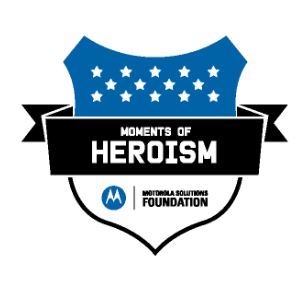 There are many law enforcement officers that complete their jobs to the fullest, many times without recognition. The Motorola Solutions Foundation  'Moments of Heroism' campaign, in partnership with the National Law Enforcement Officers Memorial Fund (NLEOMF), gives the community the opportunity to recognize those who serve. The Moments of Heroism campaign encourages members of the community to honor heroic law enforcement officers. By nominating an officer who went above and beyond the call of duty, we are recognizing those unsung heroes that may not always get the recognition and positive accolades they deserve. 
For every submission, the Motorola Solutions Foundation will donate $10 to the NLEOMF, along with $1 for every post with the hashtag #PoliceHeroMoments, with the goal of raising $20,000 by October 26, 2019. 
Share your tribute. Honor, thank, or remember our law enforcement officers, active or passed, that have gone beyond the call of serving and protecting the communities they live in.