The annual Hospitality Industry Technology Exposition & Conference (HITEC), held this year in Austin TX, provided hospitality professionals and experts an opportunity to meet and exchange ideas, share best practices, and discuss new industry trends. One of the most exciting trends is that the global hospitality industry is experiencing tremendous growth. The Ernst & Young global hospitality insights report projects that the travel and tourism sector will grow 3.9% during 2015 with hotels opening across the globe and new construction underway. In the US, a rebound in the economy is leading to an increase in both leisure and business travel. This means that whether you are an established facility or a new one, you have to evaluate and integrate new technologies into your business. The pace of new technologies is fast, and customers' expectations are growing exponentially in parallel. What used to be a "nice to have" is now a necessity.
At HITEC, some of the biggest trends were discussed:
Social Media and Online Review Sites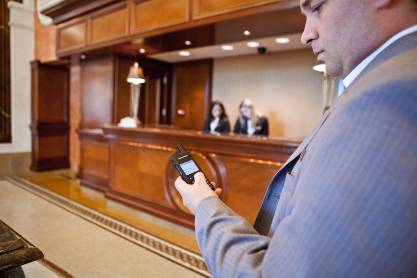 According to Inc. and Vision Critical, it takes 10-12 positive reviews to offset a negative one. Social media is not a new phenomenon, but increasingly it now has the potential to make or break you. In the past, when a customer had a bad experience they would tell their family and friends. Now, they post about it online on various sites such as TripAdvisor.com together with pictures and the reach of that one review is vast. You need to have a social media strategy to promote your services, and to respond to potentially harmful reviews.
WiFi Technology
It is no longer just a way for your guests to connect to the internet. With the proliferation of personal mobile devices hotels must now make sure that guests can easily use their phones or tablets to engage with offered services at the hotel. According to 2014 US Survey by USamp and Smith Micro Software, more than 60% of travelers prefer to purchase and reserve hotel guest services using mobile devices rather than face-to-face with hotel staff. Innovative WiFi technology can track customer preferences, provide a more personalized experience and as a result increase revenues.
Robotics
This is not the stuff of the future anymore. Robots can be programmed to sense outside information with the use of cameras, navigation tools, and audio, as well as with facial and body movement recognition. A robot staffed hotel has opened its doors in Japan, where they greet you behind the check-in desk, help you with luggage and take care of your other needs like making coffee and cleaning your room. The Aloft hotel in Cupertino, CA has deployed an autonomous robot named Butlr, which makes room deliveries of items requested by guests.
As important as it is to keep abreast of new customer facing technologies, you also need to consider the unique communication needs of your staff. In order to fulfill your guests' requests quickly and efficiently everyone needs a proper mobile device that is guaranteed to work. Motorola's slim digital two-way radios have been designed specifically for the hospitality environment. With a suite of purpose built accessories, and leading industry applications, they are a sure way to equip your staff with the right devices so that your guests experience the true excellence of your operations.
Consider clear, secure, uninterrupted voice and data communications tailored to the distinct needs of your staff. For more information on what solutions Motorola has to offer for the hospitality industry, please visit www.motorolasolutions.com/hospitality.