In a world where everything is increasingly conducted online, emergency services are no exception. Mobile data technology offers opportunities to reduce response times, provide real-time information to and from first responders and improve reporting and patient care. So how are fire and EMS agencies using mobile data?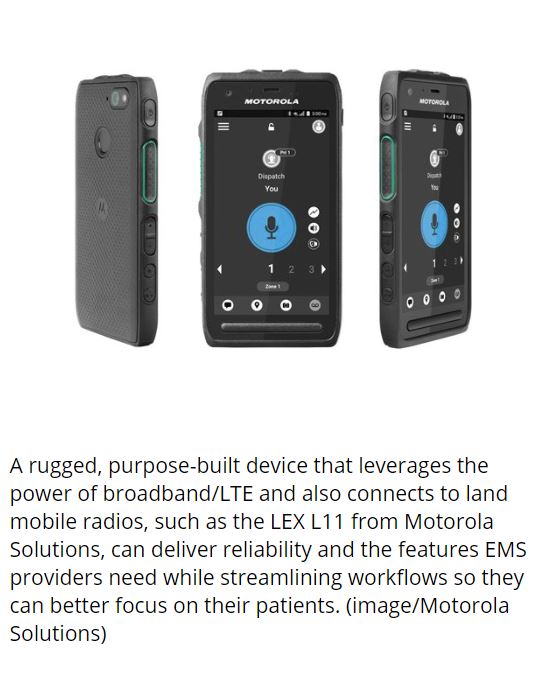 A study conducted by Motorola Solutions earlier this year queried more than 1,000 respondents and found that about half of EMS agencies are using broadband/LTE technology – high-speed wireless data transmission via mobile devices – in addition to their trusted land mobile radios. In addition, more than two-thirds of those who aren't yet using LTE say that it's important to do so, and soon.
What EMS functions are conducted using Broadband / LTE Devices?
Mission-specific apps are the main drivers of broadband/LTE device usage, especially those that are tied to the agency's CAD system. Getting to the patient swiftly and safely is job No. 1, so naturally mapping/routing tops the list of most-used apps, selected by nearly 8 in 10 respondents.
Providers already using broadband/LTE devices are seeing the benefits, specifically in expedited notifications and response times, as well as being better prepared for each call they respond to. They are also able to more efficiently complete patient care reporting, which is critical for reimbursement, so these improvements can represent a boost to the agency's bottom line as well.
Who provides the Broadband / LTE Devices Providers are using on the job?
A key question to consider: Are EMS agencies providing broadband/LTE access and devices, or are providers using their personal devices and accounts on the job?
Encouragingly, 59% of survey respondents said their agency has its own broadband/LTE subscription. Almost as many (57%) said they use the LTE service during every call. Another 24% said they use it most of the time.
Furthermore, 75% of respondents said their agency provides broadband/LTE-enabled devices for medics to use in the field. Together, these results demonstrate the growing recognition that access to data on the go and the ability to navigate and communicate in real time are critical capabilities for EMS providers.
It's important to note that agencies are using these broadband-enabled devices as supplements to the mission-critical voice over their radios to augment their access to data in the field. In fact, 72% of survey respondents reported that they are using both LTE and LMR devices on each call.
What do emergency responders need from their Broadband / LTE Devices?
Durability was by far the most important device feature for the survey respondents, with 69% selecting it as one of their top three must-haves. This was followed by ease of use at 52% and battery life at 51%. Screen size and touch-screen functionality were ranked as moderately important by a majority of respondents (51% and 53%, respectively).
While it's clear that first responders need a rugged device that can last through a full shift, they also need mission-specific functionality for two-way voice communications as well as immediate access to relevant data.
More than a third (37%) of survey respondents said they use both the two-way radio and their personal broadband/LTE device, and another 19% said they use both the radio and the device provided by their agency. Another 17% use all three: the two-way radio, their personal broadband/LTE device and the device provided by their agency.
To supplement their mission-critical two-way voice communications over LMR, providers can download certain push-to-talk apps, but consumer devices simply can't provide all the features essential to emergency response, such as always-on, intuitive PTT capabilities.
A purpose-built Broadband / LTE Device for Emergency Response.

A rugged, purpose-built device that leverages the power of broadband/LTE and also connects to their land mobile radios can deliver reliability and the features EMS providers need while streamlining workflows so they can better focus on their patients.
For example, the LEX L11 from Motorola Solutions offers mission-critical functions to provide emergency responders with mobile access to high-priority data and augment their radio communications. The LEX L11 pairs via Bluetooth with Motorola's APX series P25 two-way radio so users can communicate over the LMR network and control the radio's settings through the device, which turns the LEX L11 into a fully enabled LTE accessory to the radio.
The device features a dedicated PTT button, a dedicated emergency button and two programmable buttons on the side. These are designed to allow the user to locate the buttons by touch alone so they can initiate commands without taking their eyes off the patient or team – something no consumer device offers.
These buttons can also be used to control broadband push-to-talk applications running on the device without needing to toggle to the application or disrupting the provider's workflow. PTT apps offered through Motorola Solutions can be also integrated into radio networks, allowing users to remain connected regardless of what device or network they are using.
Made for easy use in challenging conditions.
Designed specifically for use in the noise and chaos of emergency response environments, the LEX L11 includes enhanced audio technology to reduce distortion, cancel background noise and suppress feedback from nearby devices. It's also waterproof and MIL-spec rated for drop and shock, which means it can survive a drop onto concrete without an added case.
The device's standard battery life is 10 hours, and extended batteries are available that can be easily swapped by removing the back cover. For added reliability and convenience, the touchscreen works even when wet or when the user is wearing gloves.
Data security is especially critical when handling medical information, and the LEX L11 combines multiple layers of security built into the device to protect voice and data communications. These include remote device management capabilities and strict access control lists and application whitelisting, as well as over-the-air wipe and lock so that if the device is lost or stolen, an agency administrator can remotely erase the device for HIPAA compliance and to protect patients and their personal data.
Having the right tool for the job is important. The technology used in emergency response continues to evolve, and it's imperative that providers have tools that support the specialized jobs they do. As the survey results show, responders still rely on their radios but also want broadband devices that work with those same networks to enable enhanced communication and access to critical data in real time.
Click here for a full report on the survey results.
This article reprinted with permission of FireRescue1.