A recent Center for Digital Government Survey noted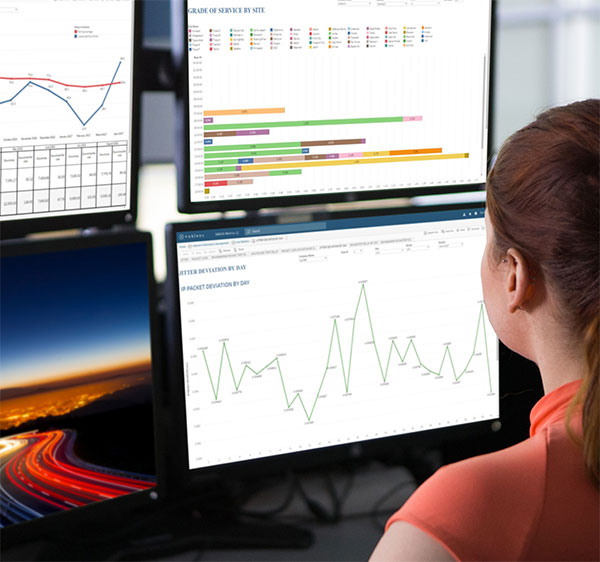 that 66% of state and local government decision-makers are turning to big data analytics for more-informed decision-making. For mission-critical operations, big data analytics is equipping network managers with the intelligence and foresight needed to decrease downtime and enhance the performance of public safety, communication networks. You can apply the same analytics to improve the performance of your land mobile radios (LMR) system.
Extracting and Applying Network Intelligence
Data correlation, trend analysis and statistical modeling of historical and real-time data shed light on LMR system performance issues stemming from your infrastructure, devices and external factors. As your data analytics capabilities improve, you will gain insights that can help you improve your system uptime and performance. Benefits include more efficiently resolving the root cause of critical network alarms, optimizing device performance and preventing system outages.
Public Safety Analytics for Improving Backhaul Management
Using trends analysis and statistical modeling, our network performance management team recently identified that a customer radio site went down every time it rained. A root-cause analysis revealed most of the outages were backhaul-related. Because the issue could not be resolved remotely, we scheduled an onsite inspection. Our field team discovered that the pedestal supplying power to the backhaul was in a low-lying area. Power loss occurred every time it flooded from rain or snowmelt. Big data analytics helped us pinpoint the source and the weather patterns that triggered the outages. As a result, our field team knew what to look for look for when they arrived at the radio site. We resolved the issue by establishing a redundant backhaul and diversifying the site's backhaul configuration. With the root cause identified and addressed, the customer can now expect to see improved network uptime and system performance during the next storm season.
Read more about how we are improving our customers' LMR systems with big data analytics in our Network Performance Management Whitepaper.