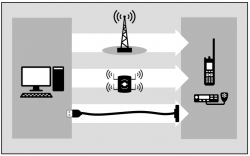 When a new version of radio software is released, how long does it take you to upgrade your entire fleet? Weeks? Months? Or is the process so painful that you choose not to reap any benefits of a software upgrade because the perceived costs are too high? At the time of this blog's publication the industry standard for upgrading a public safety radio fleet involves:
Gathering all radios from current users scattered across an entire jurisdiction
Taking radios and users temporarily out of service
Assume the risk of not catching all devices and having a fleet operate on mixed software versions
Devices not being updated efficiently – -or at all – leaving them vulnerable without the latest security patches
You get the point.
For agencies operating mission-critical operations, this status quo can be insufficient and ineffective. And now, that status quo can be a thing of the past. The next version of Radio Management from Motorola Solutions will give you the ability to automatically download and upgrade your entire fleet of APX two-way radios in a few days or weeks without bringing them into the shop and without interrupting normal operations.
Downloads take place over WiFi (when a radio connects into an authorized WiFi hotspot), USB connection or the ASTRO 25 network.
Downloads occur in the background of normal operations. When idle, radios will listen on the download channel receiving their files. There is no interruption to normal radio traffic and the users will not even know they are receiving files.
Think about it. In a few shifts, you can update all your radios with the latest software. You can fix known defects, patch security holes and gain access to the latest set of features. Reduce configuration and programming time, all without touching a radio or interrupting normal operations.
Radio Management from Motorola Solutions can save you the time and costs normally incurred during manual software updates and help you keep your radios operating at peak performance with the latest software and features.
Learn more about Radio Management and Over-the-Air Software Update.