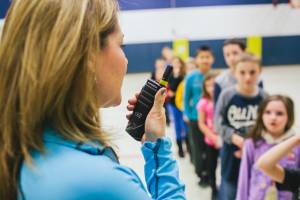 Finding money for technology solutions can be a bit of a head-scratcher. Do you have the budget? No? How can you find funds to support the proposal? Grants? So what grants are available?
In order to help our customers fund the various implementations of SchoolSAFE throughout the country, we've had to be rather resourceful. SchoolSAFE enhances community partnerships by providing schools the ability to communicate directly and in real-time with law enforcement, fire and EMS during an incident. As schools across the nation evaluate and look to improve the level of safety district-wide, oftentimes budgets are the barrier.
Over 260 schools districts nationwide have been able to implement SchoolSAFE, often with very creative financing methods. One district was able to raise money for SchoolSAFE with fundraising events. Another followed the cost-share model, asking each participating entity to fund a small piece of the total proposal, rather than relying on one organization to pay for the entire project. Another school found funds through the E-911 Authority Board since SchoolSAFE helps dispatchers and communications centers keep their communities and children safe.
However, when those options are not available where else can you find funding? Motorola Solutions partners with EducationGrantsHelp, a division of Praetorian Digital, offering a comprehensive solution to help schools secure grant funding. The Grant Assistance Program through EducationGrantsHelp is free for Motorola customers. Not only do they actively seek out available grants through various sources (government grants, corporate grants, private entity grants, etc), they will review grants in the writing process and provide invaluable input. For Motorola customers, grant writing is also available for a discounted fee.
The success rate is quite impressive, too. Currently, their grant writing success rate is 60% higher than the national average.
We are extremely excited about working with this group. With their expertise and guidance, we will be able to help find the monies needed to improve communications between schools and first responders. You can get the same assistance, too.
To request free grant assistance for your organization, visit www.educationgrantshelp.com/motorola