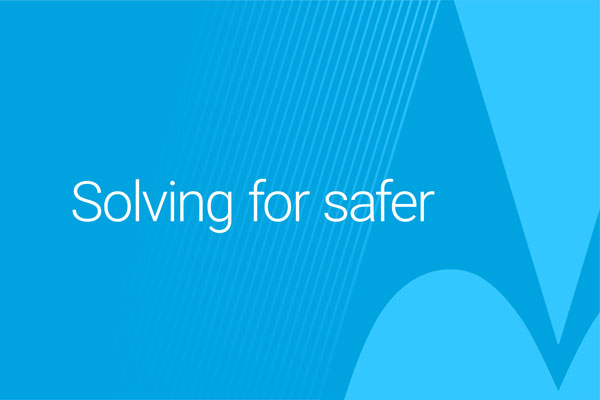 Motorola Solutions is sharpening its focus on safety and security. 
In today's world, safety has never been more important. We believe that everyone should feel safe – every day, everywhere and in every moment. Feeling safe is the foundation upon which so much of our lives is built. Because we're only at our best when we feel safe. It's what enables us to keep moving forward – imagining, building and creating. 
That is the power of safer. And that's why Motorola Solutions has made a continued, purposeful transformation centered on safety and security, committed to "solving for safer" – safer communities, safer schools, safer hospitals, safer businesses, safer everywhere.
Over the last nine years, we've invested about $12B in organic R&D and acquisitions, underscoring our strategic focus. We've created a safety and security ecosystem of technologies to help protect people, property and places. That's communication devices and networks that perform exceptionally in the harshest conditions and are proven to help teams stay connected and communicate with clarity regardless of the circumstances. It's video security powered by responsibly-developed AI analytics that can alert people when action is needed, focusing human attention to cover more ground and act with more certainty. It's command centers that bring together voice, video and data feeds into a single view – connecting the dots to simplify workflows and help provide the overarching perspective to make decisions with greater focus, accuracy and speed.
And unified as a safety ecosystem, we can enable exponentially more powerful collaboration between public safety agencies and enterprises – strengthening safety everywhere by connecting those in need with those who can help. Because when information flows freely and people are empowered to work seamlessly, we can help deliver a swifter, more informed response. 
Motorola Solutions has a long legacy of innovation – from the invention of the car radio, to the Apollo Program, Six Sigma and the world's first public safety digital radio system. We're an iconic brand that has never stopped evolving, and this intentional shift serves as the bridge to our bright future.  A future where technology is designed intentionally and responsibly to prioritize the safety and security of people, property and places. Where our out-of-the box thinking and ingenuity is focused on protecting what matters most. 
At Motorola Solutions, we're solving for safer – safer communities, safer schools, safer hospitals, safer businesses, safer everywhere.