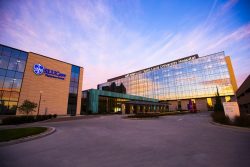 Large medical centers around the country face heightened and constant safety and security challenges. In response, SSM Health's St. Louis University Hospital is in the process of deploying the Safe Hospitals unified ecosystem from Motorola Solutions to safeguard its employees, property and the patients it serves by replacing the outdated legacy technology that could no longer meet the hospital's security and communication needs. 
SSM Health's St. Louis University Hospital identified a need for a standardized and integrated ecosystem to enable the sharing of data across teams and systems in a cohesive manner. Outdated and poor quality cameras served merely as a reactive component of the hospital's security process. In the event of a security situation, security teams were taken from actively patrolling their facility to manually sift through hours of footage, reducing already limited resources in high-risk areas. 
As a solution to the legacy security technology, SSM Health implemented the Motorola Solutions' Safe Hospitals integrated technology ecosystem that offers an end-to-end security solution that unifies voice, video, data and analytics on a single platform. The combination of high-quality images, analytics and real-time alerts had an immediate impact on incident response and resolution, allowing officers to take a proactive approach to hospital security as well as resolve events with greater speed and effectiveness. Knowing that a robust, integrated security system is in place also makes it easier for clinical staff to focus on what matters most – patient care.
Read more about the innovative and integrated technology at SSM Health here.