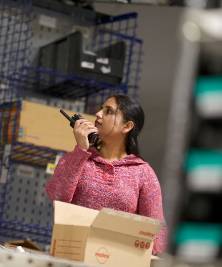 Since its launch in 2007, MOTOTRBO has been the go-to radio system for manufacturers, educators, hotel employees, transportation and logistics companies, and countless other organizations across the globe. Designed to keep teams connected, and supported by a robust array of accessories and applications, MOTOTRBO has evolved along with its users. Understanding the unique needs of the industries that MOTOTRBO serves, Motorola has spent the last eight years listening to customer feedback, gathering real-world experience and creating technological innovations, and in 2016, we are proud to present: Next-Generation MOTOTRBO. These next-gen radios have the same look and feel as their predecessors, but include new feature upgrades that address some of the most pressing issues you face today:
Safety
According to the US Bureau of Labor Statistics, in 2014 manufacturing plants recorded 4 injuries for every 100 employees, and utilities companies recorded 2.4 injuries for every 100 employees. When taken in aggregate among the nation's more than 12 million manufacturing employees and the more than 500,000 utilities workers, there is an issue guaranteeing employee safety. Now, MOTOTRBO can help. With Bluetooth indoor location-tracking, plus precise GPS, and an integrated accelerometer that alerts team members if a worker is "down", the entire team is more connected, and safer together. Smarter information leads to safer teams.
Efficiency
Hassle-free communications enables workers to focus on the task at hand, not the radio on their hip. Wi-Fi is available in every next-generation radio, enabling no-touch radio management and fast upgrades without interrupting work. Clearer audio, with reduced background noise means calls are understood the first time, every time. The next-generation MOTOTRBO has double the RAM of current models, making your radio future-ready for whatever changes come.
Productivity
The new mandate in industries across the board is to do more with less. Have fewer interruptions in your radio communications with a radio that works with up to 8% longer range, better audio quality, higher transmitter power, and up to 29 hours of battery life on a single charge. Work with tools that amplify your impact.
Radio communications have aided workers for decades, and MOTOTRBO is designed to bring out the best in every industry, by simplifying, streamlining, and improving your working environment. Learn more about next-generation MOTOTRBO here.