The digital revolution is impacting every aspect of the retail experience. Gone are the days of manual cash registers, hand-counting inventory, and unreliable overhead pagers. Today's tech savvy retailer has a digital experience for both their customers and core team. The digital radio is a subtle, yet significant development to hit the retail scene. It is impacting everything from employee efficiency to customer satisfaction, enabling everyone to work smarter. At the National Retail Federation's (NRF) Annual BIG Show in New York this month, digital radios will be a hot topic of conversation. Their features make it easy to see why:

Interference-Free
Chatter from other stores over an analog frequency can interrupt or delay your communication. This problem becomes a worry of the past with DLR, which employs frequency hopping technology. It enables the radio to continually change frequencies, making it virtually impossible for others to listen to or interrupt your conversations.
Custom Configuration
Easily change your preconfigured top button and customize your radio to adapt to your specific organizational requirements. Place key features in intuitive areas of the radio, making your staff comfortable with the operating procedures and better able to communicate on the fly.
Extended Range and Coverage
Cover up to 300,000 sq. feet or 20 floors in a single network. Batteries are reliable for up to 14 hours of continuous coverage on a single charge. The entire unit is ruggedly durable for the hustle and bustle of the retail floor.
Multiple Call Options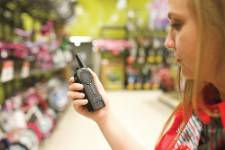 Some messages are meant only for a subset of the team. Now, you can directly access just the people who need to be on the line:
Private reply: Activates a private reply with a staff member to address specific issues quickly and efficiently without involving all employees.
Direct call to a manager: Set up your store radios so an employee can directly contact the floor manager on duty for quicker responses to consumer questions.
Page all available employees: Announce a message to everyone who is not currently tied up in radio conversation, making it easier to communicate and locate specific users.
Subtle Communication Cues
When customers are in the store, attention should be on them, not the radio. Small keys quietly alert staff when they are needed, and enable them to easily navigate the radio waves:
Talk permit tone: Lets users know when the channel is free for them to talk, promoting orderly communications.
Voice prompts: Allows easy navigation of menus, channels, battery status, and more.
Home channel: Automatically return to your primary channel when a conversation is over.
With the right technology, employees are well-informed and well-coordinated in the store, and armed with the right information to satisfy customers and keep them coming back.
Learn more about the DLR series for retail, and visit Motorola Solutions in booth #726 at NRF in New York, January 17-19.