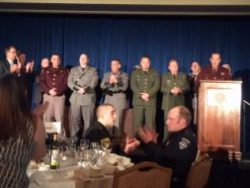 Every year Motorola teams up with the International Association of Chiefs of Police (IACP)'s State and Provincial Police Division to honor exemplary men and women serving their communities with the Annual Trooper of the Year Award.Troopers from around the country are nominated by their agencies for rising to the occasion and, often, for putting their lives in danger to secure the safety of others.
At the annual banquet on April 1, four extraordinary troopers' stories were told. Their acts of valor include a keen eye to apprehend drug traffickers, wading into treacherous waters to save a drowning teenager, swimming to save the lives of two individuals in a submerged vehicle, and a risky pursuit of an active shooter.
This year's award was given to Trooper Donald Atkinson of the New York State Police for his heroic efforts saving a 14-year old girl who had been pulled into the in-take of a local dam while swimming. When Trooper Atkinson saw the panicked cries of the girl's friends, and heard the girl's screams coming from the in-take, he entered the water without a second thought. Once closer to the in-take, he felt the current pull his own feet out from underneath him and could not save her from the water on his own. He stayed with the girl and kept her spirits high until back-up arrived. The girl was choking on the rough waters, and he learned later that the walls were completely smooth and there was nothing for the girl to hold on to for safety. Without his actions, she would have likely given up and drowned that day. Major James Barnes, New York State Police Troop C Commander noted that "This went above and beyond the call of duty…[Trooper Atkinson] put his own life in danger to save the individual."
This award is representative of the countless acts of bravery that state troopers exhibit everyday that go unnoticed by the masses. The Trooper of the Year honor pays tribute to the predominantly thankless job held by those who take it upon themselves to keep their communities safe. This is just a small thank you to the first responders who are at their best in the moments that matter.
See the nominee's stories here:
– Trooper Donald Atkinson, New York State Police
– Trooper First Class Brian Screws, Georgia Department of Public Safety
– Trooper Krzysztof Piotrowski, Illinois State Police