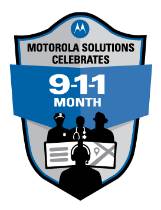 April is 9-1-1 Education Month. Throughout the month this blog series will highlight different aspects of the emergency response process, including what happens when you text or call 9-1-1, and will pay tribute to the men and women behind the phones. This April, take some time to learn something new about America's emergency response system.
It is estimated that on average, individuals in the U.S. and Canada will call for emergency support at least twice during their lifetime. Panic, helplessness and fear can be minimized or eliminated by knowing when to call and what to expect when you dial 9-1-1. On the other side of the phone there is a team of highly trained professionals working hard and following a finely tuned process to get you the help you need.
It's like a relay race.
Members of the 9-1-1 team take turns performing various actions at rapid speed to finish the race and solve your emergency. As soon as you dial 9-1-1 the race is on: the 9-1-1 call taker is the first runner – the first, first responder. A dispatcher acts as the second-in-line when they pass information on, and the first responders bring it home by coming to your aid. When the relay shotgun goes off and a call is placed to 9-1-1, the call taker understands that people facing a crisis need help as fast as possible, so they focus on four immediate things:
1.) Where is help needed?
2.) What happened?
3.) When did it occur?
4.) Who is involved?
After the call taker receives all that information, they then pass it on to the dispatcher. The dispatcher's main goal is to use a computer-aided dispatch (CAD) system to locate the closest resources to the emergency and send them out quickly. Depending on the emergency, 1 to 100 trained personnel are set into motion. While responders are on their way, dispatchers stay on the line and ask more questions. This is to gather information as a situation develops as well as to to help keep the caller calm and assured. The questions asked will not delay the race or arrival of emergency personnel, but is a strategic effort to make them faster and better prepared to help upon arrival.
Once there, the dispatcher passes the baton to the first responders. They focus on assessing the situation and taking immediate steps to resolve the issue—whether it's a medical emergency, crime in progress, fire, domestic issue, or a natural calamity.
What happens when you call 9-1-1 from a cell phone?
It was once better to call 9-1-1 from a landline because dispatchers could confirm a caller's location, but now cell phones use enhanced 9-1-1 technology that relays accurate GPS data to the dispatch center, making it just as efficient. If a mobile phone is not equipped with GPS, cell towers can triangulate a caller's location. Although with this technology dispatchers can see where someone is, the first question that will always be asked is where the emergency is located to confirm that's where help is needed.
What happens if you dial 9-1-1 accidentally?
It happens all the time. A cell phone "pocket dials" 9-1-1, the kids accidentally call, or for any number of reasons a phone connects to 9-1-1. If you do call 9-1-1 by mistake, don't hang up. The dispatcher will immediately dispatch police because they don't know why you hung up. You may be in trouble and they need to ensure there is not an event in progress that has caused you to hang up. Dispatchers take prank 9-1-1 calls and hang ups very seriously, and can assess serious fines if they believe someone is abusing 9-1-1. They are always there when help is needed.
Call takers at 9-1-1 centers are dedicated to being on call 24 hours a day, 365 days a year. Although they hope you never heed help, they are there, ready at the starting line to get you the help you need.
Learn more about the first, first responders.