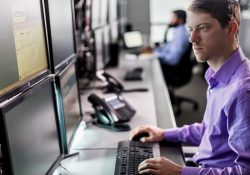 At the Office of Unified Communications in Washington, D.C., we're responsible for the public safety radio communications system which serves the Metropolitan Police Department and 27 other law enforcement agencies. 
Every day, we're working to ensure that we provide the best public safety communication systems to our residents and visitors – so when they call into our 9-1-1 or 3-1-1 systems, they receive a prompt response. It's why we're doing our best to make sure we put processes and systems in place to keep up with what is changing in the industry. 
As you know and I know, technology continues to evolve at a rapid pace. Keeping up with these changes is critical to ensuring our organization operates effectively and efficiently. 
How well has your organization kept pace with all the emerging advancements in public safety communication technology?
Motorola Solutions recently conducted a benchmark study that demonstrated the evolution of public safety radio operations in multiple industries around the world. On July 30 at 1:30 p.m. EST, they are partnering with Mission Critical Communications to host a webinar to discuss the findings. I'll be joining their panel of experts, and we will dive into topics like best practices for managing technology complexity, delivering peak performance and assuring security. At the end of the webinar we'll open the call for questions and answers. Please join me for an interesting and informative conversation!
All live webinar attendees will receive a copy of the LMR Management Survey. Register for the webinar today.