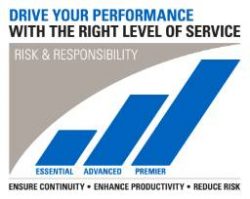 In emergency situations where first responders must make rapid decisions, the reliability of communications can make the difference between tragedy and safety. Behind the scenes, you're tasked with keeping these mission-critical networks at target performance levels. This responsibility comes with its own unique set of challenges:
– The need for immediate response to and resolution of critical network issues
– Increasing complexity as technology evolves with the surge of new applications and features
– Ever-increasing cybersecurity risks
Evaluating the current state of your mission-critical network support
\nIt takes active vigilance to ensure mission-critical operations deliver true mission-critical performance. If you haven't reviewed your operational support plans for over a year, it's time for re-assessment. Below are the questions to consider when evaluating the reliability of your networks and the services required for peak performance:
Risk management: Do you need a predictable financial model to maintain your network operations? What are the implications of a network outage and the costs associated with it?
Intelligent network monitoring: Do you have the tools to easily identify critical events and resolve them efficiently? Are you using the metrics from network monitoring to optimize and adjust for capacity variances on your system? Are you maintaining a knowledge database that aggregates intelligence efficiently to properly resolve and prevent outages?
Security: Do you understand your risk posture? What measures do you have in place to protect, detect and respond to cyber intrusions?
Expertise: Do you have a team versed in RF and IP to maintain your network that can also help you keep up with evolving technologies?
Staying current: Are you keeping your core network hardware/software up-to-date? Do you have a plan in place to address obsolescence on your system?
Ensuring the right support for mission-critical communications networks
Motorola manages some of the largest critical communication systems worldwide and understands the intricacies required for successful operations. Based on decades of operational intelligence, our service delivery is now restructured into a continuum of expert service packages to help you achieve target performance outcomes based on your resource requirements and propensity to manage risk:
If you already have a dedicated team but need added support and coverage 24×7, Essential Services help you maintain and restore your network. This includes recommended annual preventive maintenance to mitigate downtime.
If you are experiencing any downtime and need ways to efficiently improve network continuity, Advanced Services provide remote incident management and proactive security patch updates pre-tested to ensure no impact to your operations. Our dedicated staff monitors network events to detect, troubleshoot and resolve network issues quickly and accurately. We can also help you devise the best possible network-upgrade strategy to realize the full value of your technology investments.
If you are ready to outsource your network operations, Premier Services are tailored to address your goals and relieve you of financial and operational risks. Motorola's expert managed services professionals are dedicated to your network operations to deliver guaranteed performance and assured outcomes 24x7x365, freeing your staff to focus on core tasks and objectives.
All service packages include access to the MyView Portal, providing real-time visibility into critical system- and service-performance data on demand. Use the portal to generate reports and stay closely connected with our service-delivery team.
As you assess the health of your network operations, let us help you discover the best service model to ensure the best operational performance. To learn more, visit motorolasolutions.com/services.