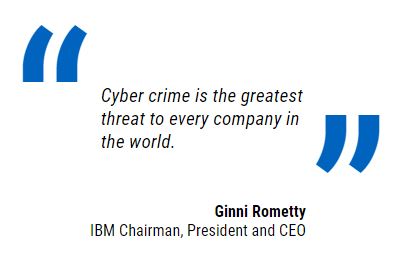 If your organization has ever wondered whether it is making measurable progress in combating cyber crime, you're not alone.
The emergence of new technologies have lowered the bar for modern cybercriminals, expanding the cyber crime landscape beyond a limited group of skilled individuals. This widening pool of cybercriminals is creating new vulnerabilities and new threats on an almost daily basis. Amid this evolving reality, it can be difficult to keep up.
According to the seventh annual Allianz Risk Barometer Survey, cyber risk is now one of the top two global business risks. And there are a number of specific attack avenues organizations are increasingly concerned about:
In the world of cybersecurity, things are changing at a rapid pace. And while organizations continue to acknowledge the importance of protecting their networks, keeping up with reality can be a challenge. That's where cyber "resilience" comes in. Moving beyond individual cybersecurity efforts, resilience looks at security as an integral part of an organization's core business – enabling them to better prepare, prevent, respond and recover from cyber breaches.

Read the full Motorola Solutions White Paper here to learn more about cyber resilience and how your organization can better protect against the growing cyber threat.
Attending APCO? Please join me during the Cybersecurity information track (August 6, 4:30 – 5:30 PM) when I will present "Welcome to the 'No FUD' Zone". During my talk I will explore real events, real impacts and offer a view of the trends in public safety technology to combat cyber threats, as well as what Public Safety personnel can do to help manage the risk.