NG9-1-1 ALLOWS US TO PROVIDE HIGH-PERFORMANCE SERVICE
Gloucester County is big, diverse and thriving. We're a tight-knit community that's large enough to leverage national and state resources, and yet small enough so that residents never feel that our services are impersonal. They know they can rely on county personnel to provide individual help whenever they need it.
Emergency services, delivered through the Gloucester County Emergency Response Center, are a perfect example of this. By collaborating with all 24 of our municipalities on 9-1-1 dispatch and emergency management, we can deliver the necessary response quickly and effectively. We've reduced the time of response for emergencies and increased the quality of that response. People here feel safe because of that.
WE GAINED BETTER INTEROPERABILITY AND ACCURACY
More than 1,500 police officers and 300 civilians provide a full range of law enforcement services to nearly 900,000 residents and business owners, while our Emergency Response Center dispatches police, fire and emergency medical services for 24 towns in Gloucester County, as well as for five towns in the neighboring Atlantic County. The Gloucester County Fire/EMS Department alone responded to more than 145,000 calls in 2016.
With so many different emergency services, interoperability is crucial, so we had to upgrade to the latest next generation 9-1-1 technology regardless of how complicated we thought it would be. Once we started the process, it went quicker than we realized. We also recently upgraded to a Broadband push-to-talk (PTT) solution that allows all our first responders, as well as supervisors and administrators, to communicate with each other in a device-agnostic manner.
WE ARE NOW ABLE TO RESPOND TO CITIZENS WHO CAN'T CALL 9-1-1, BUT CAN TEXT
As citizens, we use so many more communication channels than we used to. For many of us, texting is our first thought when we need to reach someone. As first responders, we know that we must be responsive to our customers, no matter how they try to reach us.
With a growing population and rapid changes in technology, we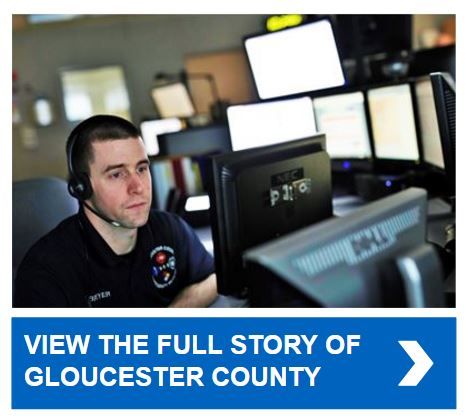 knew it was important to bring new capabilities in an effort to help citizens in times of need. That included upgrading our call center technology to one that was ready for text to 9-1-1.
We pride ourselves on being innovative, collaborative and doing things that make a difference for people who live here.
This is a place where people want to stay, where they want to invest in their future. Businesses want to stay here because they know our future is bright. And the same goes for our community's first responders and emergency telecommunicators. All of us who work in emergency response do it for the reward of helping people with vital information, support or rescue. We're a central part of the life of Gloucester County, and we love what we do.