Every year, Motorola Solutions surveys manufacturing industry leaders and asks: What plant communications issues are on your mind? In 2015, participants from 38 US states, representing professionals in every role, agreed that the top problem is noise in the workplace. Loud machines, rattling conveyors, whirring fans and strident alarms create strong noise pollution, hinder communication and can constitute a danger to the health of employees.
Manufacturers are not the only ones to notice. The World Health Organization (WHO), International Labour Office (ILO), and Center for Disease Control (CDC) have all acknowledged the health risks to employees in loud environments. The ILO states that more than one third of workers in the manufacturing industry are exposed to hazardous noise, which can lead to irreversible hearing loss and tinnitus.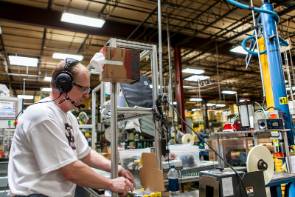 "Safe limits" for noise are defined by length of exposure as well as loudness. The Occupational Safety and Health Administration (OSHA) sets a legal maximum Permissible Exposure Limit (PEL) of 90 dBA for all workers for an 8 hour day, but if noise level is increased by 5 dBA, maximum exposure time drops to 4 hours. It's also worth noting that even 95 dBA is well short of the pain threshold (140 dBA), so workers may not immediately realize they are being harmed.
Clearly there is a need for hearing protection in the workplace. Basic ear defenders and ear plugs are often the first choice, but they introduce safety issues of their own: by blocking their ears, workers reduce their situational awareness. They miss alarms and warnings, and cannot interact effectively with their colleagues.
As a major supplier to the Manufacturing industry, Motorola Solutions has been working hard to address this important issue. Solutions that we offer not only help protect workers from the noise but also keep them connected for greater efficiency and safety:
For even better connectivity, your MOTOTRBO™ two-way radio system can be integrated with your factory control system such that alarms and alerts are sent directly to the right technician – and even read out loud with the text to speech feature. Noise may be an inherent part of your operations, but you can protect your employees and provide them with communication tools that are best suited for their jobs and the environment. "Hearing clearly anywhere in noisy conditions" is the most important priority for over 90 percent of the survey respondents.
Learn about this and other top communication trends; Download the 2015 Plant Communications report here.
To learn more about accessories to help protect your workers in noisy environments, visit https://www.motorolasolutions.com/en_us/solutions/manufacturing.html.