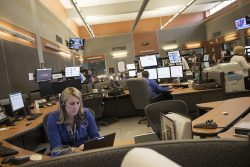 Technology for 9-1-1 is advancing at lightning speed. IP-based systems that support texting and multimedia, as well as converged communications are closer than you think. As public-safety agencies respond to this evolution, they are taking the opportunity to streamline operations by consolidating Public Safety Answering Points (PSAPs) at the county, regional or state level.
Associations find the shift to Next-Generation 9-1-1 is a paradigm shift, requiring a vision of collaboration as they develop new models of 9-1-1 service delivery.
PSAP consolidation has many advantages. Agencies can share facilities, networks and applications, staff and equipment. What is even more important, consolidation supports coordinated responses and greater interoperability among agencies and systems, ultimately leading to more effective and efficient service.
Internally, consolidation can lead to substantial improvements in responder safety and performance. Benefits that may be realized when consolidating or regionalizing PSAPs include service level improvements, reduction of 9-1-1 transfers, improved communication, more effective resource management during large-scale incidents, natural disasters, and multi-agency incidents, potential capital and long term cost savings, operational process improvements and standardization of training.
That is not to say that consolidation is simple. The consolidation process is often complex and difficult. Technology is one part of the consolidation process. Migration to the next generation calls for technology changes in the Emergency Services IP transport network, NG9-1-1 core services, PSAP terminating equipment/call-taking support subsystems, GeoDatabase and Management Information Systems, voice and data dispatching equipment and system staffing.
There are four models to approach PSAP consolidation. These four are Full, Partial, Co-Location and a Hybrid between Full and Co-Location. When evaluating these models, agencies must weigh operational advantages with short-terms costs and the opportunities for improving efficiency and reducing expenses over time. The two models that achieve the highest benefit for public safety are Full and Hybrid.
Meeting the challenges of PSAP consolidation
In our work with public-service agencies across the United States, Motorola Solutions has identified the challenges, best practices and keys to success. Making public-safety communications systems that aid in consolidating operations place the lives of first responders and the citizens they protect in the top spot.
Our focus is helping our customers in developing one operational vision across personnel, agencies and technology.
To see our applications at work, visit our private demo room at APCO, August 14-17, in Orlando FL.