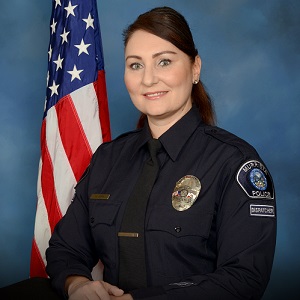 For Mattie Medina, all aspects of the job come down to two critical things: quality of 9-1-1 service and relationships, one not possible without the other. Mattie serves as Public Safety Dispatch Supervisor for the city of Murrieta, home to over 111,000 people and the second safest city in the state of California. This is a distinction Murrieta has held several years and a big reason Mattie is proud to work for the City.
Mattie started dispatching 18 years ago and the next year became communications training officer. She held that position for five years before her promotion to supervisor in 2007. Since day one, she says the most important part of her work is "being able to help someone in their time of crisis." Mattie has talked people through countless emergencies, while dispatching resources to their aid. It's rewarding, but as all telecommunicators know, the job has its challenges.
"Calls that involve little children are very challenging – very emotional," says Mattie. She recalls one involving a drowning child, and the mother was hysterical. In situations like these, she advises, "You have to take control of that phone call as best as you can." Mattie got the mother to put a neighbor on the phone and helped the neighbor administer CPR until the paramedics arrived. She acknowledges, once calls like these are over, "that's when the emotions come and the tears." But again, as all dispatchers know, you must be ready to take another call.
Mattie still fills a position on her shift. Each shift, Murrieta's 911 Dispatch Center, the only one in the City, has four positions ready to take calls and dispatch for police, fire and paramedics. In 2017, they received almost 205,000 emergency and admin calls and generated over 85,000 CAD events. This activity has allowed Mattie and her team to develop close relationships with their police officers and firemen. "After we dispatch a call, we paint a picture in our minds, but we don't get to see the outcome like they do. But we hear from them, and we ask questions over the radio to find out what happened. This doesn't happen in larger agencies. We are a family."
She expects their "family" to expand soon as they hire more dispatchers to manage the City's growth to come. As a supervisor, she will make it her mission, just as she has with the other dispatchers, to "help them and train them to be better dispatchers and to provide the highest quality of service to citizens." Mattie's personal family recently expanded as she married last year. While planning her own wedding, she assisted with the transition to a new radio system, helped launch a new CAD system and held down her normal responsibilities.
It's this dedication and drive for which she'll be recognized by the California Public-Safety Radio Association at this week's 2019 National Telecommunicators Week Award Banquet. Mattie has been awarded Dispatch Supervisor of the Year, selected among several nominations from agencies all over Southern California. Of the accolade, she says, "It is a great honor." And though humbled to receive it, she is proud of her accomplishments and the quality of service her team maintains for the citizens of Murrieta.