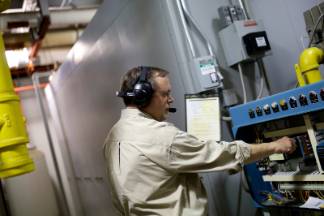 In the next ten years, the manufacturing industry is projected to have 3.5 million unfilled jobs. This is not a new phenomenon – since the 1980s large manufacturers have been reducing their workforce down to only the most essential roles, leaving a gap in their trained workforce. In these last 30+ years manufacturers have simultaneously been investing in complex machinery designed to reduce labor, creating a need for technical expertise in the new-age manufacturing environment.
Fortunately, in the last 30+ years there have also been significant developments in the ways that manufacturers operate and communicate, embodying the main principles of lean manufacturing. Intelligent communications solutions, including two-way radios, push-to-talk software and high-tech accessories help lean teams to:
By improving inter- and intra-team communication, manufacturers are able to work more safely and more efficiently. Take for example a worker operating machinery in a remote part of the factory. Whereas assembly lines used to be operated by people, it is often single workers managing machinery across the entire shop floor. If that worker is injured or for any reason falls or requires help, Next-Gen MOTOTRBO™ radios have a Man Down feature that alerts the rest of the team that this person needs assistance.
Similarly, workers operating in a loud, machine-cluttered environment still need to communicate over radio networks. They need Intelligent Audio that picks up the sound of their voice, and their voice only, so that their messages are heard loud and clear on the other end. Noise may be an inherent part of your operations, but you can protect your employees with Motorola's accessories specially designed to address the unique aspects of the manufacturing environments.
In a recent survey conducted by Deloitte, executives listed technical and computer skills to be at the top of the list of employee skill deficiencies, followed by a lack of problem solving skills, basic technical training and math skills. Smart technology streamlines operations by automating and connecting processes but these in turn require more skilled workers. In addition to seamlessly connecting employees through voice and data, comprehensive training is needed to elevate these skills and retain valuable talent.
See how the new MOTOTRBO intelligent radio is built for smart, connected manufacturing. Explore the communications guide to learn more.