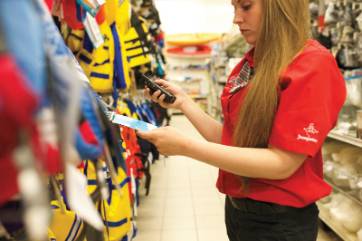 The National Retail Federation has good news and bad news for retailers in their NRF forecast for this holiday season. The good news: November and December 2016 sales are expected to increase a healthy 3.6% from 2015, to $655.8 billion. The bad news: non-store sales will increase between 7% and 10%, to as much as $117 billion, further reducing the amount of in-store traffic and sales for brick-and-mortar retailers.
In a world of Amazon Prime shoppers, it's more important than ever to capitalize on those occasions when a customer physically visits your store. It's impossible to offset the convenience, variety, and efficiency of virtual shopping, so retailers must lure users to their stores with the only advantage they have – the experience itself.
In this excellent consumer study on The Retail Customer Experience from Synchrony Financial, a poll of over 1,000 shoppers established that – in both the Apparel and Department Store spaces – the top contributing factor to a respondent's best in-store experience was the same: the associate was helpful/ attentive.
If we consider that through our own personal lens for a moment, it makes sense. Think about a recent positive experience you had in the retail environment. There probably was a friendly, helpful, and super-capable store employee in that mix, assisting you with finding the right size, making the right choice, or getting the best deal for your money. A great in-store experience begins with the store associates. Staff must be well-informed and well-coordinated, armed with the right information and empowered with accurate answers.
This, then, becomes the challenge for retailers: How do you enable every associate in your store to deliver that optimal shopping experience and keep everyone safe? Especially when, as the NRF also informs us in their forecast, retailers will be hiring between 640,000 and 690,000 seasonal workers in 2016. How do you turn someone you just hired last week into a seasonal superstar, assisting customers, locating inventory, and closing sales like they've been working there for years instead of hours?
The answer is: communication. By equipping associates with discreet two-way radios, you provide instant communications between the sales and support team and management, allowing even the greenest employee to find the information they need and share it with the customer quickly. This instantaneous connectivity also ensures they can respond quickly in a case of emergency keeping both customers and staff safe. Business radios from Motorola Solutions are small, lightweight and easy to use, providing clear, strong audio and seamless communications. By connecting the sales, inventory, and management teams, you can provide superior service to the customer from the minute they walk through your door.
With a positive holiday outlook, but harder times for brick-and-mortar retail operations, make sure you can provide your customers with the top-notch service they demand. Deliver an experience your customers cannot shop without, keep everyone safe during a very busy time, and build the loyalty your store will need to thrive in 2017 and beyond!
Click hereto learn more about our Retail Communications Solutions.