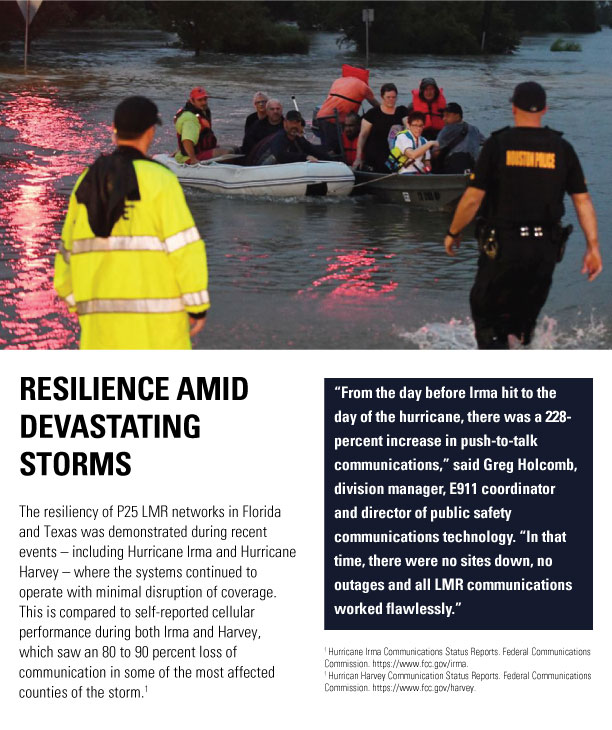 Whether it's the day-to-day requirements of the job or the unexpected emergency, your teams need to be able to communicate effectively and efficiently. That's why mission critical communications systems are designed to be resilient – so your organization can function seamlessly even in the midst of the most pressing disaster.
In a crisis, lives depend on effective, unbroken communications. Radios and networks must work – even when faced with high winds, flooding, power outages and more. Today's land mobile radio (LMR) networks are designed, engineered and tested with this in mind, delivering a unique combination of power, resilience and purpose-built devices.
Powerful Transmitters Reduce Support Needs
A massive hurricane devastates a coastal area. An earthquake topples structures and injures thousands. A tornado cuts across counties, leaving broken buildings in its path.
When disaster strikes, your team needs to focus on response and rescue efforts. You don't want to be diverting in-demand resources to perform network repairs or deliver supplies.
With powerful transmitters that provide extensive range, LMR and dedicated networks cover large areas with fewer necessary sites. Their greater range gives you more choice in site placement,  allowing for strategic placement to increase coverage, provide easier access and ensure strengthened security. In addition, powerful transmitters enable coverage indoors – in buildings with thick walls or underground parking garages – where other tower signals may not be able to penetrate.
By decreasing the number of sites needed, organizations are better able to prepare for emergencies and ensure their sites have adequate back-up supplies, generators and even fuel to withstand a crisis that includes loss of the power grid most commonly associated with natural disasters. Less infrastructure is easier to support and service, allowing your network to remain up and running when you need it most.
Resilient Design Minimizes Disruptions
If the worst-case scenario is to occur, your network needs to be resilient. LMR networks have a proven history of resilience in the most dire of circumstances. Extensive back-ups and redundancies built into these mission critical systems are devised to prevent communication gaps and losses.
Multiple levels of redundancies for key elements and fallback modes are specifically built into the networks to minimize service disruptions and stoppages – even in the most extreme conditions. Geographic redundancy with multiple zones and cores enable the zone to act as its own network if the connection to the main core goes down. Fallback modes incorporate a second core in case the main core goes down. In addition, local site trunking ensures that if part of a network goes down or is disconnected, the local site continues to operate, and users are still able to communicate.
Even with infrastructure down, limited indoor coverage, or in remote, rural areas with no coverage or electricity available, radios are able to engage in device-to-device communication – Direct Mode Operation (DMO) – ensuring that public safety personnel are always connected.
Purpose-Built Devices Thrive in Challenging Environments
Much like the network they run on, your device should be constructed to suit the conditions you work in. That's why today's LMR devices have undergone multiple generations of development and user experience testing – ensuring they provide  a number of functions integral to mission critical operations.
Dedicated push-to-talk buttons, rugged construction, advanced noise cancellation and high-capacity batteries are all features that have been incorporated into LMR devices with the customer in mind. Whether it's environments with zero visibility, uniforms that include heavy gloves and protective equipment or situations of high stress, mission critical radios are designed to be easy to use, to let you focus on your work and the task at hand, knowing that you are connected at all times.
Control Provides Backend Security
Today's public safety agencies want a high degree of control over their systems. LMR networks provide organizations with the authority to manage coverage, set capacity and dictate prioritization.
Control over the coverage, capacity and prioritization of the network provides organizations with the ability to determine who has access to the system, when and where. This control helps to protect your network, making it more resilient and secure.
Unmatched power, proven resilience and purpose-built devices are all fundamental to LMR networks. It is what sets them apart and has established them as the most reliable means of voice communications for public safety. Every day, organizations rely on these networks to stay in touch and to keep our communities safe and thriving.
Learn more about why land mobile radio is mission critical in this video.