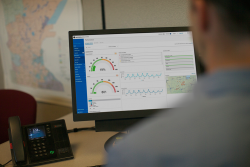 We all agree that having information and insight into network performance is extremely valuable and that network visibility is key to proactively managing a mission-critical communications system and preventing downtime. However, getting to this data isn't always easy, but it needs to be.
When I talk to network managers and ask them: what would make you sleep easier at night? I get similar responses:
Knowing what's going on in my network…right now.
If there's a network issue at one of my sites, I want to know if it is something that will affect other locations, or if it's an isolated incident.
Network security is our number one priority, so I want to ensure we have the most recent security patches downloaded.
The Need for Real-Time Network Visibility
You gain peace of mind when you know your network is secure, and you can see what's happening and when it's happening. Having real-time visibility into network data will change your approach to problem management, giving you insight with immediate benefits.
With insightful data, you can start looking at your system in a proactive manner instead of being reactive to network issues. You can analyze your network information in a way that makes it actionable enough to make decisions that reduce network problems and downtime.
Yes, network visibility and access to data are key requirements, but what type of visibility do you need? How do you want to access your system data? Motorola Solutions' MyView Portal gives you easy access to system and service delivery data with your Essential, Advanced, and Premier Service packages. MyView Portal offers many features to help you proactively manage your mission critical communications.
Top 10 MyView Portal Capabilities
Security Updates. Because security is often the number one network management priority, you can see current and upcoming pre-tested software downloads to make sure your system has the most up-to-date security patches installed. To protect your critical communication networks and technologies from attacks, cybersecurity services help safeguard your operational integrity.
Single-Source Anytime Access. You don't have to go to multiple sources to check on network cases, equipment shipments, or to produce historical system data needed for analysis. Your access to products, services and software is done from a single source. And, you can access you network data and activities at any time—from your laptop, desktop, or tablet.
Case Management. You can view closed cases and open incidents to see how they are being resolved. This data helps you assess progress resolution to confirm you're being supported at the level you expect.
Equipment Tracking. When equipment fails and is sent out for repair, you can track the resolution status and the shipment. You'll know exactly where your equipment is and when it will arrive at your location.
Overall Network Status. Having visibility to real-time system data—from our Network Operations Center—across your entire network is extremely valuable. You'll have high-level graphical views of your system to quickly assess the health of your network.
System Reports. Your access to historical information shows how your system has performed over a period of time. Conduct trend analysis to assess patterns and situations that cause issues. These reports allow you to proactively make adjustments that can prevent problems from reoccurring.
Upgrade Notifications. Knowing which components require updating helps you avoid the risks that come from operating old equipment and out-of-date software, ensuring your network is compliant and running efficiently.
Online Communication. You can easily send and receive messages from your service manager or view technical support communication online —such as cases, notes, renewal requests, upgrades and site visits. This reduces the need for you to call to get answers to questions or requests.
Asset and Contract Information. Having an inventory of your network components, orders, and contract information is available to help with budgeting and future network needs.
Flexible Options. Networks are dynamic. There's no one size fits all. You want to choose network support features that fit your business needs. The Essential, Advanced, and Premier Service packages give you this flexibility.
You can't manage what you can't see. The bottom line is: holistic system transparency makes it easier for you to move from reactive problem resolution to proactive data-driven decision making that minimizes your network downtime and costs, while increasing operational productivity.
Learn more about the importance of maintaining an updated network. Visit www.motorolasolutions.com/myview for more information.