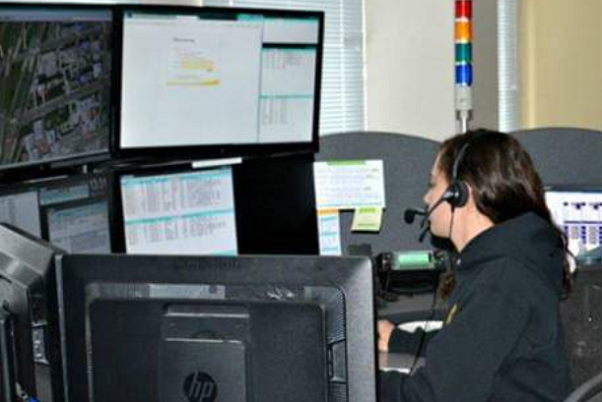 Public safety is a way of life for Jessica Franklin. Her family works in law enforcement, so it became a part of her at an early age. That meant dispatching wasn't new to Jessica, when four years ago, she learned the Montgomery County Regional Dispatch Center in Ohio was hiring. She applied and got the job as Civilian Dispatcher, a role in which she provides call taking and dispatch services for more than 20 communities, their police and fire departments and the county's sheriff office, as well as for other organizations. In doing so, she's discovered that, for her, there are two critical pieces of this critical work.
The first is taking care of the caller. "Everyone who calls 9-1-1 is having their worst day, and we are the first responders. If we can help the caller think out of the box and help them out of the situation, or calm them down, that can make a big difference."
The second element is making sure the officers go home safe at the end of their shift. She explains by sharing details of a call she received last fall. "A guy called saying a female had shot herself in the leg. But when the officers arrived, the guy was waiting and started firing at the officers. We were the target at that point, and I was doing everything I could to make sure the officers were getting all the help they needed." She adds, "We are a team and work closely together to try and have the best outcome possible every time. Luckily, no one was hurt, and the officers returned safely."
Situations like these obviously come with a high level of stress. And it comes as no surprise to learn that Jessica's family continues to play an important role in her job and life. It is the understanding of her family that has helped her deal with the strain from day one.
"My family understands the stress and tension we go through, so it's easy to talk to them about it. And if I say I don't feel like talking until tomorrow, they understand that as well. Having strong family support is crucial because you have to talk about what's bothering you. It helps to have people around who really understand and have more to offer than a nod."
It's the love and support of her family that Jessica says she's a product of – why she's able to be the person who can help the 9-1-1 caller get what they need as quickly as possible and why she has a strong urge to ensure her officers are safe. "Both mean so much to me."