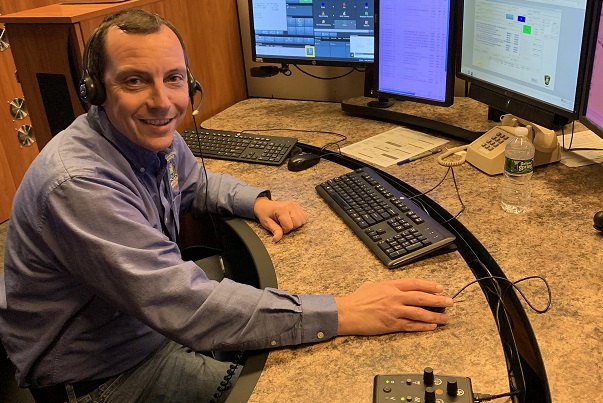 Every 9-1-1 call is important to Todd Hall, Public Safety Dispatcher for the Onondaga County Department of Emergency Communication's 911 Center in Syracuse, NY. Todd, who has been helping 9-1-1 callers for 27 years, believes everyone deserves his best, no matter their reason for calling.
"They are having a bad day – whether they have a loved one in cardiac arrest, a lost child or have locked themselves out of their car – they should get the best customer service possible. As the one taking the call, you have to remain calm, which helps them remain calm and feel more like a person and not a statistic."
With a desire to make a difference in people's lives every day, Todd started in public safety 30 years ago as a volunteer fireman with a small 9-1-1 center. That experience showed him what 9-1-1 dispatching was all about, and he has been hooked ever since. As he puts it, "That was my foot in the door and after a while, it became second nature to me."
At the same time, he says, "I've learned I can't accept the phrase 'seen it all' because that's simply not true in what we do. What I do changes every day, every hour. I've never had the same day in 27 years." The diversity keeps the job interesting, but it's far from easy.
Todd says one of the hardest calls he has every taken happened 18 years ago. This was right after he transferred to Onondaga County, but he remembers it like it was yesterday.
"I got a call from a woman who was screaming into the phone that her baby had been shot. We later learned the woman was the grandmother, and it was her two-year-old grandchild who was shot. It was gang related, and the child was in the back seat of a car. The suspects fired into the vehicle and killed the baby. The target was the child's father who was in separate vehicle. The call was only four minutes long, but it was one I thought about for a long time."
To recover and be ready to take another call, Todd says the diffusing process is critical, and communication is key. "You have to talk about it." For him, the best people to talk to are those around him. "There are 26 people on my shift, and they know what you are going through. We are a support team for each other – not just a head nod. We have a true understanding of what we are going through."
Todd Hall still maintains a position on the team of volunteer firefighters, too, and appreciates the opportunity to see how everyone in public safety plays an important role in each situation. He believes, "What we all do in public safety is incredible. Everyone has such an important role, but it all starts with the call. That's why I give every call 110% and make sure the person on the receiving end knows it and feels it. I am so proud to have this opportunity to be the first responder on the phone and play a role which can help someone."