Lee County, FL, located in Southwest Florida, encompasses the cities of Fort Myers, Cape Coral, Bonita Springs, Village of Estero and Sanibel, as well as the Town of Fort Myers Beach. Lee County is one of the fastest growing counties in all of the United States, with a population of 750,822 as of the 2020 census. Last year Lee County's Department of Public Safety handled 114,682 9-1-1 calls out of the 255,840 total calls in and out of the center. 
Lee County's Department of Public Safety comprises several primary divisions, including Emergency Medical Services, Emergency Dispatch, Emergency Management, E-911 and more.
Recently, the Lee Board of County Commissioners voted to invest in Public Safety infrastructure, and the Department of Public Safety updated its operations with next generation technology including Motorola Solutions' VESTA® 9-1-1, CommandCentral Citizen Input, CommandCentral Smart Transcription, CommandCentral Aware for 9-1-1 and ASTRO P25 Radio System.  
We sat down with three of Lee County's Public Safety professionals, Casey Allo, Communications Manager, Paul Filla, Program Manager for Public Safety Technology Services, and Samantha Melnyk, Senior Emergency Communications Specialist, to hear first-hand what implementing these new services means to them.
Making Things Better Than They Were Before
For Paul, Casey and Samantha it is exciting to know they can make things better than they were – not only for their community, but for employees now and into the future.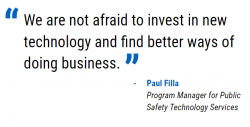 "We are proud to invest in Lee County residents and employees to make our jobs easier. We are excited about the people leading us to do what is best for our community," says Casey.
Paul adds, "We are not afraid to invest in new technology and find better ways of doing business."
Casey shares that the investment in the new technologies are delivering benefits they hadn't expected. An example is the integration between VESTA 9-1-1 with CommandCentral Aware  and ASTRO P25. These integrations allow call takers to do their jobs more easily. He says, "The sense of stress throughout the PSAP has gone down, as call takers now have a better overview of all the systems on one screen and a clear picture of who is doing what in the center. He also points out that the VESTA 9-1-1 ACD (Automatic Call Distribution) capability offers a sense of calm among the call takers. "Without their happiness, this is a much more difficult job."
"Before the ACD, we would answer the calls as they came in – whoever got to it first took the call. Now the calls are distributed evenly.  This means less stress in the room and less stress for me," explains Senior Communications Officer, Samantha Melnyk. 
Another benefit of the ACD, according to Paul, is the pre-recorded greeting which asks the caller the location of their emergency, giving the call taker breathing room to listen intently to the information before taking next steps for the response. "We didn't know this would be such a benefit," he explains.
"Efficiencies for the call takers mean efficiencies for the residents," says Casey. "Callers also benefit from the more accurate location information that Aware for 9-1-1 provides and the well-thought-out VESTA 9-1-1 queues which eliminate abandoned calls. We put a lot of time and thought into setting how we set up the queues. Now we have each others' backs and the county benefits."
Supporting the Region with Modern Technology
In the process of updating their systems to next generation, Lee County took a hard look at the way things had been done and set goals for updating their processes and aligning them to new industry standards. 
"It was important for Lee County to get on a system that is modern and matches the technology being used by others in the region. Collier County, one of our neighboring counties, is already using VESTA 9-1-1 which improves our interoperability with them," says Paul.
"9-1-1 calls are going to be answered quickly, even if they overflow into another PSAP," explains Samantha. She recounts a story of an emotional husband calling in to report his wife's drowning. Despite the tragic circumstances, Samantha explains there is peace knowing the husband's call would be answered. "We now have a system we know will let us send help quicker."
Next Steps 
Now that Lee County has experienced the benefits of Motorola Solutions' next generation services, they are setting out to help other VESTA agencies. "We now have an infrastructure with redundancy, diversity and resiliency. And we know others may not be able to do that yet because of budgets. We want to look at how we might be able to help them in a hurricane or other natural disaster. It's not just what's next for us, it's what's next for the region," says Paul.
He shares that, with these new investments, Lee County has re-engineered their network for the future, making it a public safety grade system. "It's about technology, and with it, we have a new hammer, a new belt and new tools to make the job easier. Now that we have folks using it, we will find new ways of using it. We will continue to grab feedback and listen to calls and look at the data. We want to go above and beyond," says Paul. 
Hats off to Lee County for going above and beyond in adopting next-generation technology—for their community, for their employees and for the greater good.
To see the solutions live that Lee County has implemented, visit our Booth #401 at National NENA. Find out how you can benefit from integrated, intelligent software.
And for more information about the operational benefits of Next Gen technology, hear Memphis PD and Brazos Valley Council of Governments discuss the impact of new technology on their day-to-day operations on the recent NENA webinar.
www.motorolasolutions.com/ng911