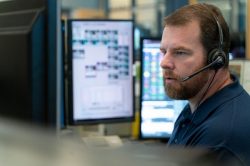 Evaluating and assessing the performance of your mission-critical communications is more important than ever. The five C's of critical communication – coverage, capacity, cost, control and capability – can help you navigate the rapidly evolving public safety communications landscape.
Today's environment – where increasingly sophisticated cyber attacks are on the rise and costing organizations and agencies billions of dollars in a matter of minutes – requires the addition of a sixth C: Cybersecurity.

Globally, the number of cybersecurity breaches continues to grow – increasing by an estimated 67 percent in the last five years alone. The annual cost of cybercrime has increased by 72 percent in the last five years – reaching an average of $13 million per attack. 
In addition, the ever-evolving digital landscape, and accelerating digital transformation at all levels of private and public sector, has created new opportunities for cybercrime. Criminals are branching out beyond information theft to the disruption and destruction of core systems. For public safety agencies, ensuring their data, networks and communications are secure is vitally important. And with nearly 200 attacks reported annually – averaging to one every three days – cybersecurity is a growing concern. 
It's increasingly important that network security continues to advance to keep pace with emerging cyber threats and threat actors, much less stay ahead of them. Embracing additional security measures, implementing advanced threat intelligence tools and incorporating innovative encryption services are vital to cyber security. Organizations that apply security best practices and standards will be better positioned to protect against cyber attacks.
Cyber attacks can have dire consequences for any organization. Our approach to cybersecurity includes a holistic set of services spanning risk assessment and consulting, security patching and monitoring, response and recovery services, and ongoing cybersecurity training. All of our offerings closely align with the National Institute of Standards and Technology (NIST) Cybersecurity Framework, which helps organizations better manage cyber risk awareness, detection, response and recovery. Through a portfolio of Professional and Managed Security Services, we continue to invest and focus on key areas to ensure our customers' systems are protected and secure:

Risk Assessments and Compliance: Violations of regulations, laws, codes of conduct or standards of practice – whether intentional or unintentional – open organizations up to compliance and cyber attack risks. We provide our customers with proactive threat assessments to enable them to understand these threats, assess their level of risk and minimize their exposure to potential damage.
Threat Intelligence: The stakes are high as cybersecurity continues to target more critical systems. Having insights into potential cyber threats and bad actors can help your organization prepare and protect it's systems. Our team is focused on understanding the changing cybersecurity landscape, generating deep insights into emerging threats and enabling your organization to evolve it's approach.
Security Patching: Software, regardless of its format, is vulnerable – and that vulnerability can lead to loss. Security patching is your first and most critical defense against potential attacks. In fact,

85 percent

of targeted attacks could be prevented with patching. We provide security patching and updates to enable your systems to remain secure, function properly and stay protected from outside cyberattacks – all while ensuring network availability.
Security Monitoring and Incident Management: Cyber attacks can not only bring your network down, they can also cost you millions. Proactive and continuous monitoring can play an important role in staying ahead of potential threats and detecting issues earlier. Our Security Operations Center (SOC) has experienced, highly-trained and certified security professionals dedicated to monitoring your systems 24 / 7 – utilizing analytics and automation to pin-point threats, alleviate false positives and ultimately mitigate risks.
System Response and Recovery: If an unforeseen cybersecurity incident does occur, it's crucial that your organization responds quickly. Organizations that are able to contain an incident in less than 30 days decrease the average overall cost of that breach by nearly $1 million. Our system response and recovery services can help reduce the time attackers are on your network by quickly detecting malicious or suspicious activities, identifying root causes, and accelerating containment and eradication of threats.
Cybersecurity Training Programs: We understand that the cybersecurity arena is changing at a breakneck pace. Our technicians and employees participate in continued learning and training – ensuring they learn new skills, develop existing ones, stay up-to-date on emerging attack methodologies and remain confident in their abilities. We also provide training directly to our agency partners so your team understands cyber risk and is well prepared to respond to threats.

Endpoint Security: Whether it's malware, suspicious communications, unsafe websites or downloaded files, cyber attacks come in a number of different forms. Every aspect of your network – servers, computer systems, laptops and tablets – must be protected against these known and unknown threats. We consistently invest in sophisticated tools that enable us to stay one step ahead and protect your network end-to-end.
Cybersecurity is no longer an option. We can help you protect your system and the critical information it carries. 
Learn more: motorolasolutions.com/cybersecurity