"The week of September 17 was a watershed week for Public Safety,"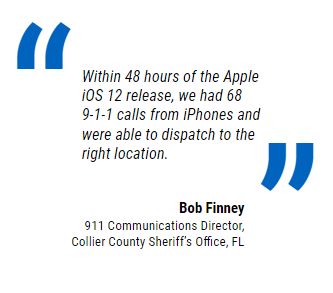 said Keller Taylor, Infrastructure Operations Manager at Princeton University, Department of Public Safety. Keller and Bob Finney were panelists on the recent NENA webinar, sponsored by Motorola Solutions, in which they shared the impact of the Apple iOS 12 release, Google's partnership announcement with RapidSOS and the profound impact these events have on saving lives.
Over 80% of the 240 million calls made to 9-1-1 centers across the U.S. are from wireless phones. That's about 192 million people in need while on the move, making it more critical than ever for PSAPs (Public Safety Answering Point) to know a caller's exact location. In fact, the FCC estimates 10,000 more lives could be saved every year if 9-1-1 call takers and dispatchers had more accurate location information.
"Location accuracy is the #1 priority in being able to effectively and efficiently dispatch resources to those in need," said Keller. "Today, with the RapidSOS NG911 Clearinghouse, we have an operational solution that utilizes supplemental location information which will speed the identification of the caller's precise location. This has enormous implications for saving lives."
"In addition to being able to pinpoint the exact location," says Bob, "the other big benefit is that 9-1-1 can now dispatch responders to the scene more rapidly."
Finally, a Solution: RapidSOS Integration with VESTA and CallWorks
The location accuracy solution offers a level of situational awareness not possible until now. Public Safety has had to rely on a network-centric approach to identify a 9-1-1 caller's location. The reason apps like Uber can identify exactly where we are is because they use device-based hybrid location.
Tests with RapidSOS and Motorola Solutions call handling software have shown that device-based hybrid location indeed provides more accurate location information because it combines the smartphone sensors including: GPS, Wi-Fi access points, Bluetooth beacons, barometric pressure, pedestrian dead reckoning, gyro sensors, accelerometers and more.
The RapidSOS NG911 Clearinghouse is accessed through the VESTA® and CallWorks platforms. This means VESTA and CallWorks customers now have the technology to receive fast and accurate, life-saving location information for millions of iPhone and Android devices in the U.S.
During the webinar, Keller and Bob shared specific examples of how the RapidSOS functionality with VESTA and CallWorks will make the difference between life and death.
Keller talked about the ability to identify a 9-1-1 caller in Princeton University's Tiger Stadium, in a crowd of thousands of fans. Bob talked about the ability to pinpoint a 9-1-1 call coming from within a school building. He pointed out, that in Collier County, due to the frequency of hurricanes, school buildings are built to Category 5 standards to withstand the hurricanes, but their construction makes it extremely difficult for wireless reception. "Schools, unfortunately, have become targets, and we need much better coverage. In one of the tests we did with VESTA, RapidSOS and Android ELS (Emergency Location Service), the caller was standing right outside of a classroom, and we were able to pinpoint that exact location. In situations like active shooters, having the exact location is very beneficial."
How PSAPs Access This Technology
Your PSAP can easily realize the benefits of the RapidSOS technology through the use of RapidSOS, CallWorks CallStation and VESTA 9-1-1 and or VESTA® Map Local.
Once PSAPs are enabled, citizens do not need to install any app. When dialing 9-1-1 from their iOS 12 iPhone or Android device with ELS enabled, their location is automatically sent to the RapidSOS NG911 Clearinghouse and accessed by the appropriate 9-1-1 center. The call taker then sees the caller's location, sent as supplemental location data, from RapidSOS as well as the ALI (Phase 1 or Phase 2 location).
"With this tremendous capability, citizens can have greater confidence in Public Safety's ability to know their location when they call 9-1-1 from their mobile devices," said Keller.
Bob closed the webinar with a reminder why it's so important to take serious note of this development. "9-1-1 gets its fair share of news stories and some are based on location difficulty. What has occurred with Apple and Google is a positive for Public Safety. But PSAPs have to take action and bring this technology into their centers. Otherwise, there will be someone who will die because we didn't have an accurate location soon enough and none of us want that to happen."
The team at Motorola Solutions is ready to help you bring this life-saving location data to your call takers and first responders, who need and deserve the best possible technology.
For more information on Motorola Solutions and our CallWorks and VESTA capabilities, visit motorolasolutions.com/ng911. For information on RapidSOS and how to enable the functionality for your PSAP, go to RapidSOS.com/ng911clearinghouse. You can also listen to the NENA webinar here and view the Motorola Solutions Emergency Call Handling video on YouTube.